Concrete Tinting
Per LPC requirements, concrete sidewalks must be tinted "Winter Beige" to blend in with nearby older concrete.
The concrete tinting is available through 
Raw Equipment Corp.,
28-00 College Point Blvd.,
Flushing, Queens, NY
phone:718-461-2200
website: rawequipment.com

(Chromix Admixtures for Color-Conditioned Concrete, sample 6063 from color chart A-312.10)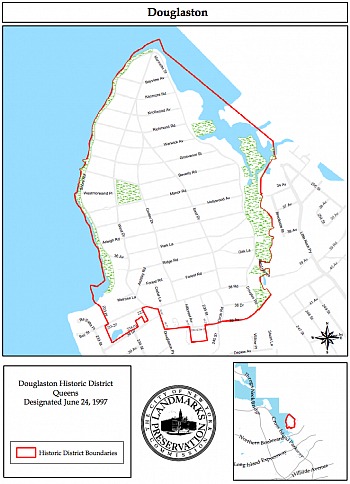 Do I Need Approval Before Making Repairs? Usually
Whether you want to make a few minor changes or a major renovation, living in a historic district in New York City means there are a few rules and regulations that you need to follow.
You need to contact the Landmarks Preservation Commission (LPC) for a permit. While this may sound daunting, the LPC has worked hard to make this process relatively painless for homeowners. You are required to get a permit from LPC for any exterior work, whether it be a renovation, alteration, new construction, replacement, or demolition regardless of the need for a permit from the Department of Buildings. Permits for interior work are not required within the Douglaston Historic District.
Permits are not required for ordinary repairs and maintenance such as replacing broken windows, exterior paintings in the original historic color, and caulking windows and doors. They are required to change colors of façade, doors, trim, windows, shutters, or roof shingles.
Depending on the scope of work, the permit can take anywhere from 20 to 90 days. However, to expedite permits, the LPC has introduced two new services: (1) FasTrack Service and (2) Expedited Certificate of No Effect Service. If your project fits with the guidelines for these two services, you can have your permit within 3 to 10 days. If you would rather speak with a staffer who can help you with the process call LPC at 212-669-7851.
A benefit of living in a historic district is that you may qualify for financial assistance to help pay for your renovations. You can apply for a financial grant through the LPC's Historic Preservation Grant Program to fund exterior repairs, mainly on the façade of your home.  
Links to LPC Guides and Forms
What can I do to my house?  Click here to watch the video
Permit Application Guide
Landmark Preservation Rule Book

Standard Application Form
For interior or exterior work or to correct or legalize a landmark violation

FasTrack Application Form
For interior work and select exterior work

Expedited Certificate of No Effect Application Form
Select interior work only

Post-Approval Application Form
To amend or sign off on previously approved work or to submit filing drawings for Certificate of Appropriateness
Historic Preservation Grant Program
Provides façade restoration grants to income-eligible owners of landmark properties and non-profit organizations:
For Homeowners
Non-profits