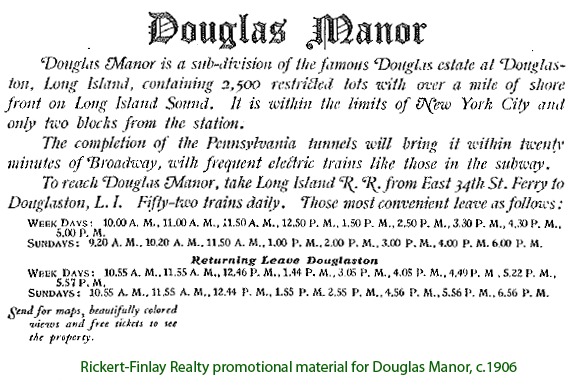 The Douglas Manor historic district is located in the northeast corner of Queens between Great Neck Estates and Bayside, 12 miles east of Manhattan.

Founded: 1906

Acreage: 175

Housing: 595 single family, 4 undeveloped properties

Important Phone Numbers:
Office: +1-718-225-3111
Barn:+1-917-580-0936
Dock Gatehouse: +1-718-224-4827
Security +1-718-423-0311 
111 Precinct: +1-718-279-5200  click here to see detailed precinct information. 
To view NYPD Compstat 2.0 information.

The regular hours for the security patrol are Sunday to Thursday 6pm to 2am, Friday and Saturday it is 6pm to 3am.  Hours may change during summer season, holidays or in the event of increased nefarious neighborhood activity. Hours changes are based upon consultation of the DMA President, Security Chair, the owner of the security company and in some cases with input from the 111pct.


The Douglas Manor Association is a 501(c)4 not for profit corporation.